We at Best Tile have divided Anti-Slip ratings into three levels, and broken down which intended uses fit into which level, to help which tiles to use when you need Anti-Slip tiles.  Here we have a the descriptions of the intended uses for the three levels; low, medium, and high.  You can browse these ratings using the All Tiles – Anti-Slip categories from the main menu above.
Low – Intended for use in dry indoor areas.  Living rooms, hallways, bedrooms, etc.
Medium – Intended for use in frequently wet indoor areas.  Bathrooms, toilets, dressing rooms, kitchens, utility rooms, etc.
High – Intended for indoor and outdoor, frequently wet, high traffic areas.  Lobbies, entryways, saunas, wet rooms, swimming pools, driveways, garden paths, etc. 
Anti-Slip Tests and Ratings
The anti-slip rating of a tile can be measured in different ways.  Our tiles generally have one of two different types of anti-slip rating test carried out in laboratory conditions by the manufacturer.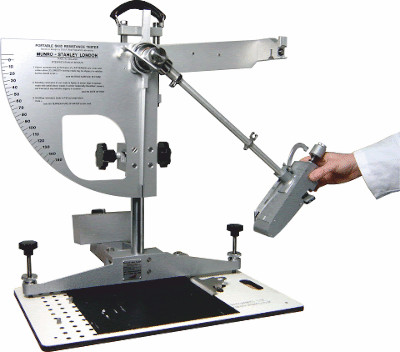 The pendulum test assesses the friction offered by a floor surface when a foot comes into contact with it.
In a pendulum test a weighted artificial 'foot' is dropped from a fixed height to slide on the tile being tested.  The distance beyond the vertical that the pendulum swings is measured, and this gives the rating or result.  The further past vertical, the lower the rating, and the less past vertical the higher the rating or the better grip the tile being tested has.
In a ramp test an operator wearing work boots stands on an oil covered sample of the test material, which is in a machine like a treadmill that changes and measures the angle of the ramp.  The operator will walk and move until loss of grip and the angle will give the test result.
The most used test in Ireland and the UK is The Pendulum Test (BS 7976) or PTV.  There is not an exact correlation between PTV ratings and R ratings, but a PTV (Pendulum Test Value) rating of between PTV 11 and PTV 18 would be roughly equivalent to R9. PTV 19 to PTV 30 would be roughly equivalent to R10.  PTV 31 to 41 would be roughly equivalent to R11.  PTV over 42 would be equivalent to R12 or R13.  In Ireland and the UK a PTV rating of 36+ would be considered certified 'Anti-Slip', which would be required in spaces where there is a lot of water.
In this table we show how we have broken down each test result from the types of test found on our website, into our levels of high, medium, and low anti-slip ratings. There is some crossover in rating results.
| | DIN 51130 | PTV (BS 7976) | UNE-ENV 12633 |
| --- | --- | --- | --- |
| High | R13, R12, R11 | PTV 31+ | C3 |
| Medium | R11, R10 | PTV 19 – 41 | C2 |
| Low | R9 | PTV 11 – 18 | C1 |